COUNTER CT11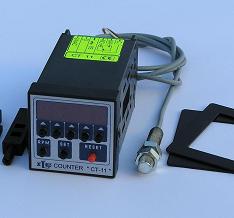 This device counts the circular knitting machine rotations, by deducting them from the pre-set number and stopping the production when the countdown is over.
It steadily displays the speed of the machine rotation in revolutions per minute, with a decimal digit.
It also displays the time left to finish the piece knitting, given in hours and minutes.
The tiny dimensions of this panel instrument, featuring a 45x45mm width front panel, make it an ideal device to replace old mechanical counters.
Several fitting brackets are available, including an adapter to fit it in the housing of old mechanical counters.
It works either with a magnetic switch supplied on purpose or with a generic proximity switch.

TECHNICAL SPECIFICATIONS
Power supply on 24Vac, energy requirements 0,1A.
External connections by means of polarized terminal boards, which can be pulled out.
Box complying with DIN 43700 standards for flush-mounting, coming supplied with specially-designed brackets.
Long-lasting components tolerating external interference
Dimension: Height 45mm, Width 45mm, Depth 100mm
Split inputs for magnetic and proximity switch.
Counter up to 99.999 rotations.
Isolated power supply unit.
DC internal protection.
2A 250V service output.
CT11 Manual
| | |
| --- | --- |
| Part Numbers | Description |
| 804 | COUNTER CT11 WITH FLANGES FOR COMPATIBILITY WITH MECHANICAL ONES |
| Related Accessories | Description |
| 805 | ADDITIONAL FLANGES |
---
Home Page