AGOPHOTOTEX AGF2B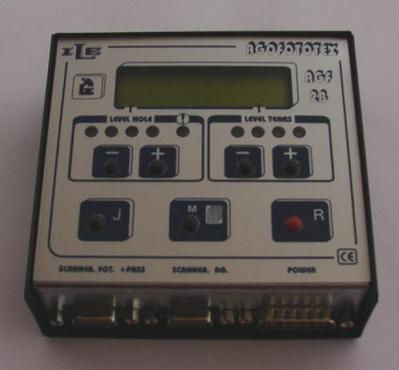 The AGF2B AGOPHOTOTEX instrument is used on single-bed o double-bed circular knitting machines to detect needle hook breakage and check the quality of the knitted fabric.
This instrument join the standard FM10 and AG14 into one unit for cost and function optimization
A precision magnetic sensor warms the instrument that the circular knitting machine has performed one complete rotation. At this stage the digital processor built into the instrument stores and verify the number of needles being working.
If the instrument detect a broken needle it stops the production or the machine, meanwhile the optical head look for holes or dropped stitches.
The instrument consists of a main module, a specially-designed magnetic switch and up to two optic needle scanner plus one optic head.
The smooth front panel with projecting keys allows a longer useful life. The instrument is housed in a sturdy metal box.
TECHNICAL SPECIFICATIONS:
Power supply voltage from 22 to 26VAC, power consumption 5W (isolated secondary circuit).
Programming and access to data are protected by a password which can be disabled by an electronic key.
Dialogues in Italian, English, French and other languages on demand.
Short-circuit protections, electrical interference suppressors and components tolerating external interference, all guaranteeing a safe operation.
Metal box dimension: Heigh 108mm, Width 110mm, Depth 37mm.
DC internal protection.
2A 250V service output.
Manual AGF2B
| | |
| --- | --- |
| Part Numbers | Description |
| 841 | AGF2B MAIN UNIT |
| Related Accessories | Description |
| 822 | AG12/AG14/AGF OPTIC NEEDLE SCANNER |
| 823 | AG12/AG14/AGF MECHANICAL SUPPORT FOR OPTIC NEEDLE SCANNER. |
| 825 | AG14/AGF MAGNETIC SENSOR PLUS MAGNET |
| 826 | AG14/AGF POWER SUPPLY CABLE |
| 827 | AG14/AGF PASS |
---
Home Page