PHOTOTEX FM10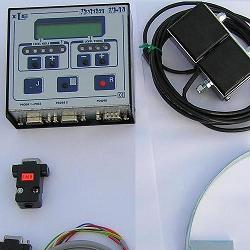 This computerized system detects the faults by means of infrared optical readers positioned to analyze the knitted fabric and makes use of accurate testing methods.
It avoid manufacturing damage pieces and allows a quality control in terms of kind and number of defects.
The instrument features different adjustments for holes and dropped stitches and their relevant luminous logarithmic scales. A testing and monitoring method conducted on 3 rotations allows to spot the smallest dropped stitches.
The built-in microcontroller stores and display the number and kind of the defects.
The back-lighted, 32-character LCD screen displays the useful data in a clear and complete way.
The instrument sensitivity can be easily adjusted, since it is steadily displayed and can be altered by means of proper keys.
This new release of well-know standard products as FM8 and FM9 point to optimize costs and dimensions.
Adjustments and the gathered data are protected by a secret code which can be disabled and/or by an electronic key. The owner of the electronic key can alter the secret code and/or prevent other users from gaining access to the keyboard.
A wide range of optical readers with a complete adjustment allows to use this instrument for a great number of types of production.
The instrument includes dialogs in Italian, English, French and other languages on request .

TECHNICAL SPECIFICATIONS
Infrared ray operation managed by a microcontroller.
Power supply on 24Vac, energy requirements 0,2A (isolated secondary circuit).
60mm, 40+40mm Interchangeable probes (two swivel-probes).
Up to two Optical head placed at opposite side of texture lead to a double height of controlled area.
Programming and access to data are protected by a password which can be disabled and/or by an electronic key.
Length of the needle removal jump is software selectable.
External connections by means of "D" type connectors (DB9, DB15)
Metal box dimension: Width 110mm, Height 100mm, Depth 40mm.
2A 250V service output.
FM10 Manual
| | |
| --- | --- |
| Part Numbers | Description |
| 851 | FM10 MAIN UNIT FOR ONE OPTIC HEAD |
| 856 | FM10 MAIN UNIT FOR TWO OPTIC HEAD |
| Related Accessories | Description |
| 862 | FM10 OPTIC HEAD 40X60 |
| 816 | FM8/FM10 OPTIC HEAD 2X40X40 |
| 863 | FM10 OPTIC HEAD BRACKET |
| 811 | FM8/FM10 LARGE SLEIGH |
| 865 | FM10 MAGNETIC SENSOR PLUS MAGNET WITH BRACKET |
| 866 | FM10 POWER CABLE |
| 867 | FM10 AGF PASS |
---
Home Page