PHOTOTEX C89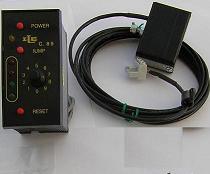 This computerized system detects the faults by means of infrared optical readers positioned to analyze the knitted fabric and makes use of accurate testing methods.
It avoid manufacturing damage pieces and allows a quality control in terms of kind and number of defects.
The instrument features an sensitivity adjustments for holes and a related luminous logarithmic scales.
The built-in microcontroller check signals from the optical head ; if the magnetic sensor is installed than the discarded needle can be skipped .
A wide range of optical readers with a complete adjustment allows to use this instrument for a great number of types of production..
TECHNICAL SPECIFICATIONS
Infrared ray operation managed by a microcontroller.
Power supply on 24Vac, energy requirements 0,2A (isolated secondary circuit).
50mm, 40+40mm Interchangeable optical heads (two swivel-probes).
Possibility of disabling the needle removal jump.
DC internal protection.
2A 250V service output.

C89 Manual
| | |
| --- | --- |
| Part Numbers | Description |
| 836 | C89 MAIN UNIT - SUPPLY 16VAC |
| 819 | C89 COMPLETE KIT WITH ONE OPTIC HEAD 40X60 |
| 820 | C89 COMPLETE KIT WITH ONE OPTIC HEAD 2X40X40 |
| Related Accessories | Description |
| 848 | C89 OPTIC HEAD 40X60 |
| 849 | C89 OPTIC HEAD 2X40X40 |
| 863 | FM10 OPTIC HEAD BRACKET |
| 811 | FM8/FM10 LARGE SLEIGH |
| 865 | FM10 MAGNETIC SENSOR PLUS MAGNET WITH BRACKET |
| 860 | POWER TRASFORMER FROM 24VAC TO 16VAC |
---
Home Page