MULTITEX3 MT3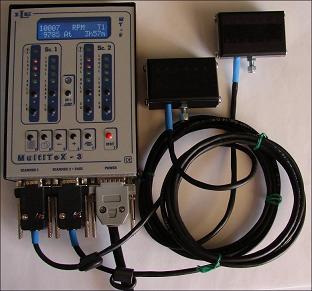 The MULTITEX3 or MT3 instrument detects the faults by means of infrared optical readers positioned to analyze the knitted fabric and also handles a lot of functions useful in a textile circular machine.
It avoid manufacturing damage pieces and allows a quality control in terms of kind and number of defects.
The instrument features different adjustments and related luminous scales for holes and dropped stitches for each one of two optic heads.
A testing and monitoring method conducted on 3 rotations allows to spot the smallest dropped stitches.
Counts the circular knitting machine rotations, by deducting them from the pre-set number and stopping the production when the countdown is over. It displays the revolving speed of the machine and the time required to achieve the countdown.
Measure the yarn dispensed to yarn feeders on 4 standard systems plus an additional one dedicated to Lycra. It check that measured amount fit into a programmable tolerance and stop machine if yarns consumption is out of range.
Stores the knitting times of the machine and the rotations performed during 5 work shifts, allowing to protect these data with a password that can be disabled.
Data output on Serial Port RS232.
The device consists of a main module and of a magnetic switch to detect the circular knitting machine rotations.
The staff in charge of its operation can use the control functions, in that the access to the data is protected by a password that can be disabled.
Short-circuit protections, electrical interference suppressors and component tolerating external interference all guarantee the safe operation and greater reliability of this device.
TECHNICAL SPECIFICATIONS
Power supply voltage from 22 to 26VAC, Power consumption 5W.
60mm, 40+40mm Interchangeable probes (two swivel-probes).
Up to two Optical head placed at opposite side of texture lead to a double height of controlled area.
Dialogs in Italian, English, French and other languages on demand.
External connections by means of "D" type connectors (DB9, DB15)
Metal box dimension: Width 110mm, Height 150mm, Depth 40mm.
2A 250V service output.
DC internal protection.
MT3 Manual
| | |
| --- | --- |
| Part Numbers | Description |
| 830 | MT3 MAIN UNIT |
| Related Accessories | Description |
| 854 | OPTIC HEAD BLUE TYPE 40X60 FOR FM10BLU AND MT3 |
| 855 | OPTIC HEAD BLUE TYPE 2X40X40 FOR FM10BLU AND MT3 |
| 800 | SET FOR YARN FEEDER TYPE MPF-L |
| 802 | SET FOR YARN FEEDER TYPE MPF-20 |
| 865 | MAGNETIC SENSOR PLUS MAGNET WITH BRACKET |
| 831 | MT3 POWER SUPPLY CABLE |
---
Home Page